Login
Log in if you have an account
Dont have an account? Register
3 color trends of sandals for women in spring
06 Jul 2021
In spring, women's sandals are necessary, because they provide comfort and style. However, to always look glamorous, it is essential to know what fashion gurus think about the colors of the season.
Therefore, at Billie Boutique we present you the 3 color trends of women's sandals for spring. Based on the experience and dedication of our fashion experts, we have put together a short guide for you to choose the sandals that best suit you.
Join us on this brief but exciting adventure of colors, sandals and style. Because spring doesn't have to be boring and uncomfortable, on the contrary! You'll love the different styles we'll show you, as they are designed for the contemporary, professional and self-improvement-seeking woman.
Let's get started!
Trendy sandal colors for women
Here are the 3 color trends in women's sandals for women that will be in style this spring. We also propose some sandal styles that you will love.
1. Suede black
Black is the most elegant color of all. It combines with any outfit and, in addition, adds style and versatility to whoever wears it. Therefore, this spring it is not surprising that this color is among the most sought after. Moreover, it is highly recommended by fashion gurus for its aesthetics and depth.
Women's sandals in this color have undoubtedly caused a sensation in the fashion world. This is because spring, while characterized by warmth in its tones, black offers an efficient and assimilable contrast to combine with any outfit.
Now, the pieces that meet this characterization are the Pasifai Sandals, whose design and ergonomics are accompanied by the minimalist. Elaborated with buckles and golden details, distributed along the sole, this sandal is comfortable to walk long distances. 
Another option that might interest you is Tkees - Sloane Cross. These all-black sandals with minimal detailing are perfect for any occasion. Crafted with cowhide leather uppers and a durable rubber sole, these Brazilian sandals will make you feel good.
Because black in spring is great, even more so when it comes in women's sandals. Don't doubt that pampering yourself, looking beautiful and comfortable never has to be a secondary option, especially when spring is here and the weather is favorable to go out on a trip.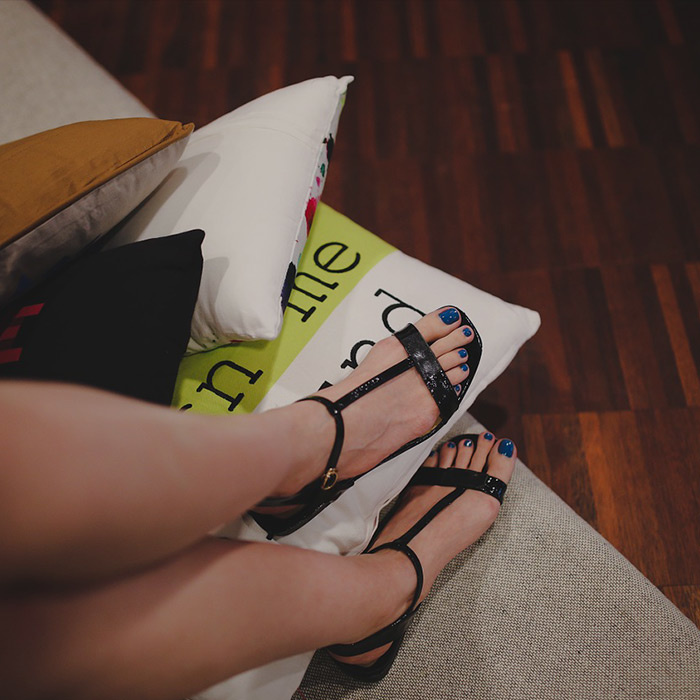 2. Off white
Off-white is, for many of us, an iconic color that attracts us. Although we clarify that we are not alone, as the iconic Marilyn Monroe used it a lot, looking beautiful and elegant. So, it is interesting how this shade has survived the passing of the years.
This spring, off-white took center stage on many runways around the world. Likewise, women's sandals with this tone have become a trend, as they are alternatives that bring style and comfort.
Among the novelties that this spring brings us, we can mention the Alexa Sandals. They are inspired by the original style of ancient Greek sandals and are handmade, so that the high ankle straps and decorated straps are to your liking.
That said, it is worth mentioning that these sandals are the safest sandals for walking long distances, due to the buckles around the ankles and plantar area. In addition, they are very elegant, especially if you combine them with a mini-dress in the same color, which matches the spring nights.
3. Chestnut
The latest color trend for women's sandals is chestnut. Many of us may associate this color with hair. However, it has a strong presence in clothing and footwear as well. The elegance it brings, and the ease with which it can be combined with other garments, has fascinated fashion gurus.
Therefore, in this spring 2021, one of the alternatives that caught all eyes was Melpomeni Nails Sandals. Made in Greece with 99% leather and 1% rubber, they are perfect to wear not only in spring, but at any time of the year.
The chestnut color that prevails in these sandals gives them a more traditional touch. In the same way, the arrangement of the straps, the fine details and their minimalism make them comfortable. In addition, it means a better arrangement of the elements that make up the sandal and greater support for the foot.
On the other hand, the small screw-head studs that adorn its extension give it a classic look. Such details, combined with the chestnut color, make these women's sandals very comfortable, aesthetic and elegant. Besides, the sensation of semi-bare feet will be another experience.
Want to buy quality women's sandals?
After knowing the 3 women's sandals trends for spring, what are you waiting for to contact us? We are Billie Boutique, experts in the latest fashion trends since 2006, in the Outremont neighborhood of Montreal.
If you want to buy the best sandals, in our store you will find many options that will catch your attention. We also offer you a wide range of products that you will definitely want to have in your closet.
The entire Billie Boutique team is also proud to offer you many services in our online-only store. Because for fashion, all times are spectacular. Contact us, it will be a pleasure to serve you.