Login
Log in if you have an account
Dont have an account? Register
How to combine a long skirt?
23 Feb 2021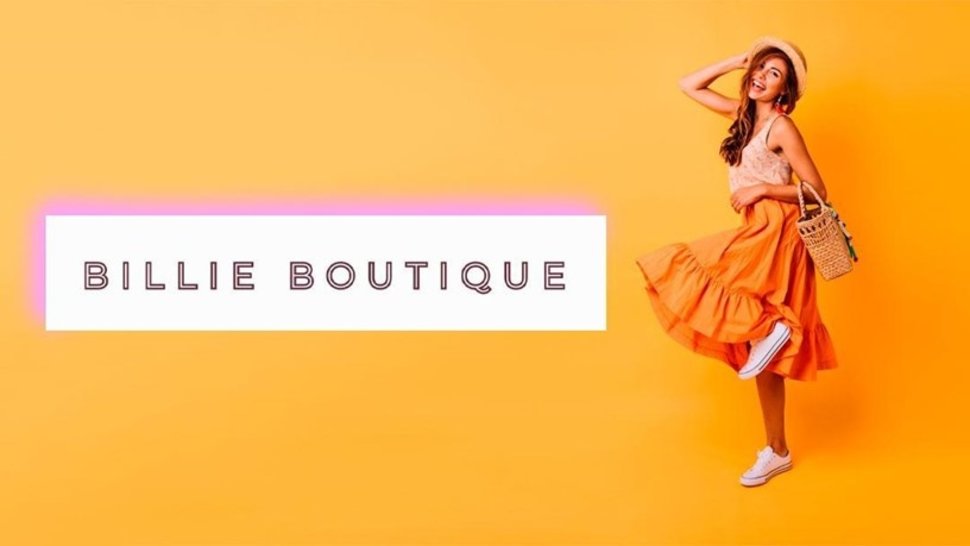 The skirt is a garment that has been used for a long time. It is very popular: it encircles the waist and hips, and covers the legs to some extent. Today, skirts are made in a huge variety of fabrics and styles.
The skirt can be adapted and worn in almost any context, as it is quite a versatile garment. However, there is a type of skirt that is usually used in a very specific time of the year: the autumn and winter season.
Indeed, we are talking about the long skirt. In cold seasons, such as fall and winter, we almost always look to cover up to counteract this environmental factor in some way. The long skirt can be effective in that sense (although, as we said before, this garment can be easily used at other times of the year).
But how to combine a long skirt? There are quite a few alternatives, and from Billie Boutique, where we are specialists in women's fashion since 2006, we want to give you some tips about it. Would you like to know them? Then, stay with us and read the rest of this article.
A little bit about the skirt
As we have already said, the skirt is a garment that has been used by mankind for a long time. Several historians agree that human beings have used the skirt in prehistoric times, always due to the need to protect themselves.
In various cultures, such as Egyptian or Scottish, the skirt was worn without distinction of sex. However, universally, the skirt has been adapted as an exclusively feminine garment, nowadays, almost everywhere.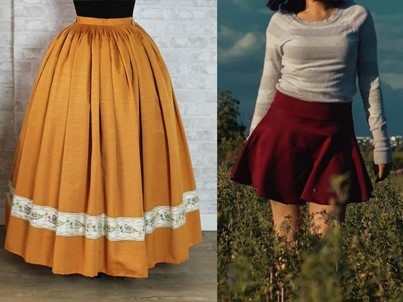 The skirt, like many other garments, has undergone a constant evolution, so that today there is a diverse number of styles: from long skirts made of fabrics such as cotton, to denim miniskirts.
Ideas for wearing a long skirt
But, well, let's talk about the long skirt. We have already said that the long skirt is usually worn more during colder seasons, but how does this type of skirt look best? Discover these ideas, on how to combine a long skirt, that we have prepared for you:
With a T-shirt
Combining a long skirt with a t-shirt is never a bad idea. T-shirts are always a garment that we usually have on hand and combine with almost everything. So don't hesitate to build your outfit this way.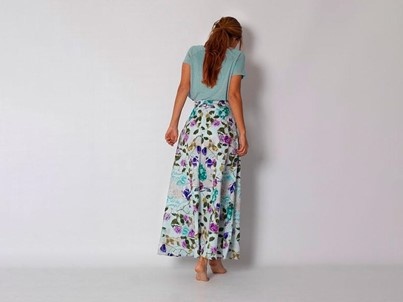 Look for the colors of your garments to generate a harmony with each other. Opposite colors (such as black and white) would look good, as well as cold tones with light colors and warm tones with more intense colors (valid for all other recommendations).
Regarding footwear, tennis shoes or your usual casual shoes would be perfect.
With a blazer or jacket
Formal attire does not have to be exclusive to ceremonies or similar activities. If you wish, you can wear it during other daily activities or casual outings. And is that these jackets and blazers are usually associated with formality, so combining them with a long skirt would be perfect.
Dare to wear this great outfit, because you will look perfect and we assure you that you will not regret it, and you will even want to repeat it.
With a long sleeve blouse
We continue talking about another garment that is considered formal: the blouse with long sleeves. They come in many styles and fabrics. If you have one that you like, and you think it matches, do not hesitate to combine it with a long skirt.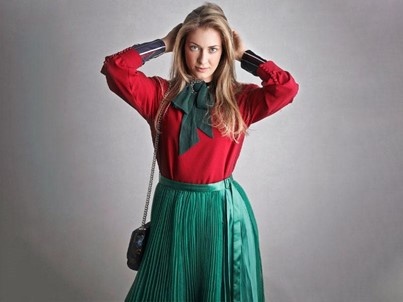 Depending on where and when you are, you can wear your long sleeve blouse with your long skirt, in one way or another: with a belt, inside the skirt, outside the skirt... there are definitely many alternatives.
With a top
Tops are beautiful garments that can be perfectly combined with a long skirt. Strappy, lace, cotton, wool... There are many styles that will surely look great with your long skirt.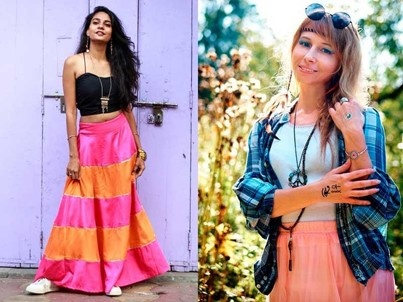 However, you were probably thinking about something, and we understand: tops in cold weather? It may seem strange at first, but in this case, you can complete your outfit in a masterful way, with one of the garments we talked about before: a jacket or a blazer. A vest would also not be bad for these cases.
This way you will complete a great outfit: you will look perfect and, in addition, you will protect yourself from the cold characteristic of this time of the year.
Where to buy a quality long skirt?
If you've reached this point, you now know some great ideas on how to combine a long skirt. All in all, women's fashion has many elements that can come together for wonderful results.
Have long skirts caught your eye and do you want to buy one? There are many alternatives you can opt for, but, if you want a quality long skirt, we invite you to do it with Billie Boutique.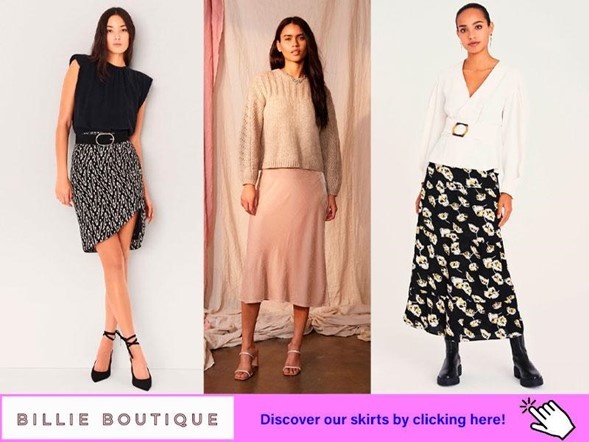 At Billie Boutique we are experts in everything that concerns women's fashion, and in our store, you will find everything from the most beautiful dresses to the coolest accessories from many brands.
Explore our skirts by clicking here, or take a look at the rest of our product catalog, we offer free shipping on purchases of $250 or more! Remember that you can also visit us at our physical store, 1012 avenue Laurier O Montreal, Quebec. Do you have any questions or comments? Don't hesitate to contact us.